Wow been away looking for Something to Blog. Its been a couple of days. Had a crazy party over the weekend, got a little sick. Its all good now. Had some time to look for some random links. Enjoy em'.
What If Predator Was A Little Bit Gay?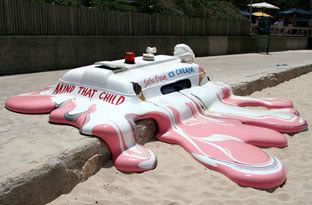 Neat melting ice cream truck sculpture.
Freaking furniture made to look like stones!
USB iPod Memory Stick... (looks kinda cute)
Make your own free iPod! (out of paper)
A penguin that can play ping pong! Freakin' beer pong champ!
How to change spark plugs... because my dad never tought me.
Japan Completes Life-Sized Gundam Statue (nuff said)
Student Makes Barrel Monster, Gets Arrested... what a dope.
Sesame Street - Dogs bake homemade bread... damn them dogs give me the creeps.
Hello Kitty anti-virus software... 0_o